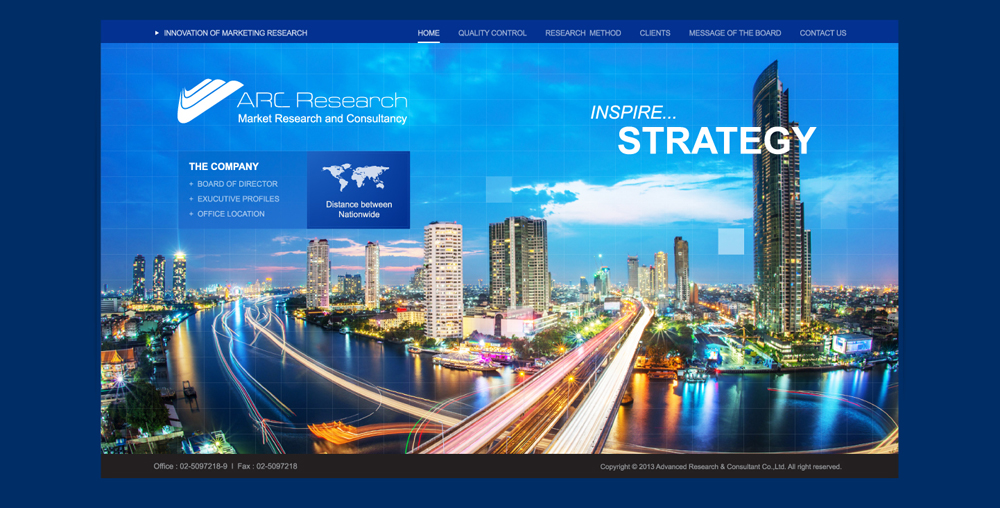 ARC RESEARCH
http://www.arcresearch.co.th
ARC was established in 1995 by group of researchers and registered as a company company in 2006. We are proud to be a Thai company with the capability to handle both complicated and large scale projects (500-5,000 sample size) for both local and international clients. We are staffed by experienced and professional local staff and and have a network of researchers covering all areas of Thailand, East and South-East Asia. With our local expertise and international capabilities ARC is able to offer clients excellent and wide ranging insights into consumer lifestyle, culture, marketing environments and much more. All research, both quantitative and qualitative is planned and executed under the direction of our senior executive staff to ensure maximum quality and consistency of the research findings.
After decades of marketing research experience, we have found that senior marketing personnel are heavily burdened with overwhelming workloads, leaving no time to develop their own creative strategies or gain valuable insights into the marketplace. Research findings tend to be rushed in order to meet deadlines. This leads to a severe drop in quality and professionalism. For many projects, clients often pay a great deal for so-called "highly experienced professionals", but in the end they receive lacklustre results that are less than acceptable.

To remedy this, ARC was established to vastly improve the quality and types of research, enabling marketing professionals to meet their goals. We believe that the reliability and credibility of research findings has to be delivered by people who execute to the highest standards and are true professionals in every sense of the word. By employing our services you can focus your energies what you know best and in turn, provide greater benefits to your businesses and clients. We understand that most clients are highly selective in commissioning market research agencies to handle their projects, similarly, ARC takes great care in selecting the clients and projects we wish to pursue.

Our full-time professionals include researchers, applied statistical specialists, data collection and data processing professionals as well as marketing consultants. We strive to keep our services up-to-date and remain alert to the latest developments in research techniques and technology that can be adapted to fulfill the research objectives of our clients. In addition to in-house training program, our research professionals are also regularly invited to lecture on marketing research and other related training courses at blue-chip companies and many prestigious universities. Our marketing recommendations often appear without solicitation in business Newspapers.